Chris Brown Gives Up Graffiti Fight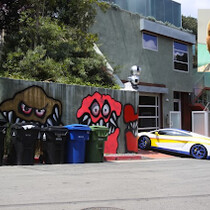 Posted July 12th, 2013 @ 10:27am
from rhymeswithsnitch
Back in May Chris Brown was ordered to remove the graffiti on the outside of his house in the Hollywood Hills after neighbors complained to code enforcement [click
here
if you missed that].
At first Chris vowed to fight for his First Amendment Rights, but now Breezy's throwing in the towel...
Painters have been spotted outside Chris Brown's house painting over the graffiti but insiders tell
TMZ
that it's not because of the code enforcement order.
Apparently Chris was just tired of look and had it painted over because he wanted to.